Tech
5 Reasons Your Videos Should Include Voice-Over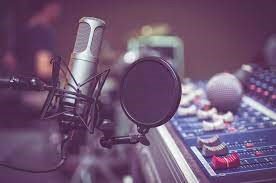 Accessibility is the most obvious reason your videos should include voice-over. An estimated six billion people worldwide are non-native English speakers, including 67.3 million people in the U.S. who speak a language other than English at home. Voice-over can help your video content overcome cultural and language barriers to reach a broader audience. However, accessibility is not the only reason for adding voice-over to your localized videos.
Why should you consider adding a professional voiceover to your brand's videos?
Can't you just use subtitles or have someone from your team record all the lines in your script to save the cash?
Out of all the ways your business can benefit from using voiceovers, videos are one of the most popular and helpful for your brand.
Explainer videos and demos show potential customers what it's like to use your product or service. And videos with voiceovers can take your digital marketing campaigns to the next level.
5 REASONS WHY YOUR VIDEO NEEDS A PROFESSIONAL VOICEOVER
Your brand's videos deserve a professional voiceover because:
1. SOME AUDIENCES PREFER VOICE-OVER TO SUBTITLES
Both voice-over and subtitles make videos accessible. However, some people prefer voice-over to subtitles. Without the distracting text on their screen, it is not only easier to follow the narrative, but they can also look away without potentially missing any information. In addition, the use of different voices enables viewers to distinguish the speakers and understand dialogues more comfortably when there is more than one speaker or character. For those that cannot read, voice-over translation also offers language accessibility in a way that subtitles can not.
2. INCLUDING VOICE-OVER OFFERS THE BEST VIEWER EXPERIENCE
You spend time and money creating professional videos in English for your customers. Understandably, you want the same high production values for your non-English speakers. Fortunately, this does not mean starting from scratch. With a professional studio, top-notch voice talent, and sound engineering expertise, it is possible to produce a seamless and natural audio file that sounds like an original piece of work. By aligning the translation and the voice actor with the tone of the original content, you can create an experience that is worlds apart from subtitling or transcripts. It is almost as if the video was not created first in English at all!
3. IT'S EXPENSIVE AND TIME-CONSUMING TO HANDLE VOICEOVERS IN-HOUSE
Producing a low-budget voiceover can detract from your video's quality and turn away viewers. Audio that sounds like it was recorded in a tunnel, with harsh poppings and heavy breathing, is common when you don't have experience with the latest microphone techniques.
Not to mention that recording voiceovers in-house is time-consuming and expensive. You'll need to research and buy the best equipment and software, then set up your recording/editing station every time you need a new voiceover.
However, professional voice actors have the dedicated time, high-quality equipment, and voice over recording software required to produce top-notch voiceovers. Many even have their own home recording studios.
This raises your videos' overall production value, enhances your message, and allows it to perform to its full potential.
4. PROFESSIONAL VOICEOVER ACTORS ARE TRAINED EXPERTS IN SPEECH
A voiceover actor is special because they've learned a specific craft through years of voice acting exercises and experience. A professional often:
Specializes in a unique voiceover field, such as social media videos, eLearning, commercials, medical narration, video games, and more. They're storytellers and guides, able to deliver lots of information that complements your on-screen imagery.
If you need complex words pronounced or a tag at the end of your commercial read quickly, a voiceover actor will do the job more effectively than someone from your team because it's their job and passion.
Spends time training behind a mic all day. They've learned how to communicate the right emotional cues with only their voice and a script to follow. They've honed in on the right tone, delivery, and cadence to perform at the highest level.
Has an intuitive, innate "ear" for speech. A voiceover professional understands the proper turn-of-a-word, timing, and inflection to make words land and resonate with your audience.
5. A PROFESSIONAL VOICEOVER BOOSTS YOUR SONIC BRANDING
Sonic branding refers to the distinct and unique sound your target audience will associate with your brand.
It both makes a connection with your consumers and helps your brand stand out in a sea of competitors. When your audience hears this voice, they'll automatically pay attention to your message just like they'd listen to a trusted friend.
So, is your brand casual and family-friendly? Or does it appeal to a high-end, luxury buyer? Are you targeting a specific age group, like seniors or teens?
In our guide to the most popular accents, we outlined all the differences between using a fun, adventurous Australian accent versus a sophisticated, refined British voiceover, for example. And we even discussed whether your business should be using Spanish voiceovers in another guide.
These specifics make a major difference on whether your audience connects with your brand and its messaging or ignores them.
So just like you'd trust a skilled graphics designer with your company logo, you should also contract a professional voice actor to create your sonic branding. Once you connect with this voice, you can keep partnering together on voiceovers for videos, podcast ads, and much more.
Thank you for your reading. Good Luck!
For more valuable information visit this website