Finance
How To Reach Small Business Loan Lenders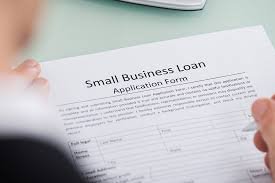 Loan for small businesses works as an effective tool that leads them to the higher steps of success. Small business owners who work really hard to maintain their businesses' status must learn some efficient techniques that could help them make their businesses more successful.
One of such techniques is financing. Although financing the businesses requires a large amount of money and is obviously not easy in modern times. But an effective way to implement the technique is to reach out to the best loan lenders working out there in the market.
On broader terms, there are generally two types of loan lenders i.e. Online agencies that provide you a loan through an online application for the loans and the other loan lenders in the market to those you have to go out in the market physically and apply for the loan.
Online loan lenders
These are types of small business loan lenders that work for your benefit and provide you money for your small businesses through a hassle-free process. All you have to do is to visit their site and apply for the loan online by filling the application online. The process is done by them, and you are provided with the loans within some time. Some of the online loan lenders are:
• SBG Funding: This is an online funding site that has partnered with business.com and asks you to go through three simple steps to follow to get to the application form that is needed to be filled to get the capital for your small business.
• Noble Funding: This is another most prominent site that allows you to fulfill your company's financial needs by simply applying for a loan through it. The amount paid to you greatly depends upon your own financial needs.
• Rapid Finance: This is the most leading and trusted site that provides you with many options from where you can get the loans and guides you through the whole process. Merchant cash advice and the small business loan are two of its best options that it provides you to get the capital and make your business succeed.
• OnDeck: They are working to support small businesses to flourish and succeed in the modern competitive world. You just have to authorize with OnDeck in order to get started with them for the loan application processes and guidance for the small business set up.
Other loan lenders
There are various other loan lenders in the market that ask you to physically visit them and apply for the loan manually by filling up their application form and completing the loan borrowing process. These types of loan lenders are:
Invoice Financing
Based on your short-term business needs, invoice financing allows you to borrow the loan for the short term but can be extended by the bank or the lender you have borrowed money from. This invoice financing is quite helpful in meeting up your company's short term liquidity needs.
This type of financing is efficient in B2B businesses whose financial needs are very specific. What they do is, they send the invoices to their clients and wait for the payment, where meanwhile their own bills and required payments are mounting up that need to be clarified. The shortage of funds occurs when these businesses can't get their cycle of cash flow to sync up efficiently, and their payment remains due.
In such a case, rather than going for a loan, they prefer to fill the gap through invoice financing. They sell their invoice to the lender, who will front the majority of the due amount of the invoice. All of the remaining amounts get on hold until the invoice is paid in full amount.
The only drawback of this invoice financing is that the fee is a bit higher than other kinds of traditional loans, and the amount that you pay greatly depends on how long your client will take to send the payment, but the benefits are great.
Further, the invoice financing acts as collateral, meaning that you don't have to provide anything to get the loan payment. And, secondly, you get your loans super fast-it can be easily provided to you within a day. Lastly, the requirements for qualifying for the loans are that strict that may put you in longer-term confusion about whether you will get the loan or not.
Personal loans
When you fall into an entrepreneur who has not got a long business history, you might find personal loans as the best type of loans for yourself.
Business history serves as an important factor in making you eligible for any loan. It maintains the trust between you and the lender because you have legit proof that your business has survived some years, and he would not hesitate to provide you with the amount that you need for your finances.
So, instead of making up your mind and settling up for a bad and pathetic business loan, you can easily opt for personal loans. It comes to provide you with a much lower amount that starts from not more than $35000 so that you can easily pay back your amount when you find ease in doing so.
After settling up for a personal loan, try to make your business more established and make it survive for some years. After that, your business has stayed in the market for some years; you can go for other business loans if you want.
Equipment Financing
When you obtain any machinery, vehicle, or any other equipment on a rental or lease basis, the process is known as equipment financing. The usefulness of this type of financing is that it prevents you from investing capital in the equipment and allows your business to flourish most effectively.
Maybe you have planned to set up a restaurant and feel a need for investing in the various equipment that is useful in your business. Or you may own any other business that needs some moving vehicles like trucks or vans, and then you might want to avoid this extra expense.
The best way for you is to go for the equipment financing. In this type of loan, the lender extends you the funds that are needed to purchase the equipment for your businesses.
Equipment financing provides you quick access to money and a loan that is perfectly "self-secured." The process requires only simple paperwork and a few other requirements that are perfectly easy to fulfill.
If you ever default on paying back the loan, the lender has the right to seize your equipment so that he may be able to repay the debt. Further, the interest rates are a bit higher in this type of loan, but sometimes that can be as low as 8%, depending upon your financial needs.
Traditional Term Loan
This type of loan is best for those who are looking for a large sum of money for their businesses. The bank provides you with a huge sum of money, and you have to repay the amount within the set schedule.
Traditional and local banks have remained the primary source that lends money to most of the businesses. With the technologies' advancements, online loan lenders have replaced these traditional loan lending options, but still, these traditional term loans are one of the most affordable options.
The rates these banks offer for loans are above 6%, and some even go below 3%. Sometimes banks are reluctant to extend the payback timeline for small businesses, so to get the loan from the bank, you need to have exceptional business and personal credits. A strong annual revenue is also needed to gain trust.
Business lines of credit
Business lines of credit are also known as LOC, is quite similar to credit cards in the sense that a borrower is given a huge sum of money that can be restored as the borrower repays the loan in the given time. Small business owners can continue to draw on the LOCs whenever they feel the rise in their financial needs.
Business lines of credit are famous for their flexibility as you can use your line anytime to finance your business as it is growing. The other way is that you can keep the one in your pocket and use it any time anywhere when you face an emergency.
Interest rates vary greatly, depending upon the borrower himself, but they are starting from as low as 7%.
Business credit cards
Surprisingly, credit cards may function as a form of financing for you serving as a short-term loan. If you are using a credit card for your everyday needs, such as purchasing supplies, this can greatly help you build up an attractive credit score, and it also rewards you with insurance policies and perks. Credit cards are effective in covering up your costs without you needing the major kinds of loans.
If you are confident that you have a strong business history relating to credit, you may easily qualify for a credit card that comes with a 0% introductory APR.
To work on your credit scores, extending your time in business, and building up a strong business that effectively promotes growth, are some of the best ways to get the best possible loan.
Once you put yourself in a strong business portion, it is quite easy to get the loans for the bank for an extended period of time so that you could finance your business needs.
SBA Loans
It may be unfair to some small business owners that they may not be able to get any affordable financing from the banks. To overcome the problem, small business Administration has launched a program that easily helps small business owners get the loan from the bank.
This type of loan comes from an entity that has partnered with government agencies. To understand deeply, firstly, you have to secure a loan from the bank, and then SBA guarantees the repayment of 85% of the remaining payment of the loan back to the bank that you have taken from it.
SBA loans guarantee you the educational benefits and professional counseling for you when you are going to start small businesses.
The requirement for the documentation greatly varies from one lender to another. But when you opt for SBA loans, you would generally require financial and personal records like bank statements and business financial reports, including your yearly earnings, loss and profit statements, etc. Adding to it, you would also want your credit reports. However, SBA loans are provided to those who have their companies operating in the United States.
As far as the credit profiles are concerned, it would help if you had a strong portfolio for your credit score in order to make the bank trust you and SBA loan credentials both. If your credit score is better than average, then there are increased chances for you to get the amount between $500 and $5 million depending upon your company's financial needs.
Because both the lending institution and the SBA are responsible for approving the SBA loan, the timeline of funding can be easily exceeded to 2 months. Make sure you submit all required documents with your application to prevent additional delays.
Our Final Words
We have tried our best to provide you with all the best and most authentic loan lenders in the market that could help your company to jump out of the financial struggles and make it successful once again without putting a lot of pressure upon you in any case. With their predetermined loan terms, you are quite aware of the consequences, and you feel much relaxed while dealing with them.